Ulem-Ulem Waterfall in Keruak Sub-District, East Lombok Regency - Indonesia
---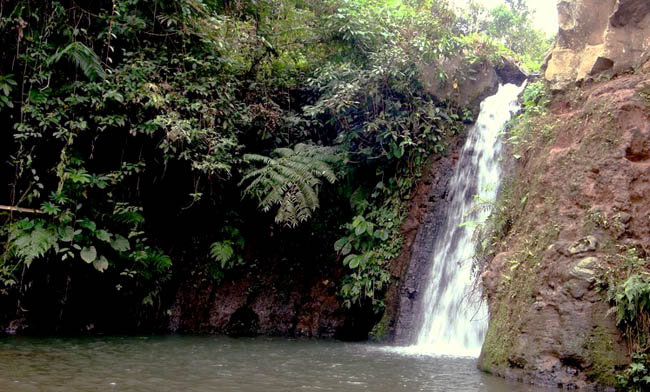 Some people disregard the importance of nature tourism. Well, they must be wrong. An opportunity to get close to nature and enjoy its serenity always satisfies everyone. For instance, people can visit Ulem-Ulem Waterfall in East Lombok Sub-District of Indonesia. To be exact, such peaceful falls is located in Keruak Sub-District and belongs to Tete Batu Village. It is the place where tourists can create a memorable experience during a holiday. Also, they can get away from routines and feel the peace of nature. Another popular activity to do in Ulem-Ulem Waterfall is to take a bath in the natural pond, which is also the feature of the site.
The Nuance
In terms of nuance, Ulem-Ulem Waterfall owns a pristine and peaceful atmosphere. The sound of the water feels so soothing and the pond feels rejuvenating! Near to the waterfall, a signboard resides and it is written by the locals. What is next? Apart from those features, the site is blessed with a beautiful panorama. Tourists can even see Rinjani Mountain clearly from there! Not to mention a formation of paddy farms are visible, creating a lucrative natural attraction.
Exploring Ulem-Ulem Waterfall
The most common activity to do in Ulem-Ulem Waterfall is relaxation. Tourists do not even need to do anything, simply sitting and watching the falls. Hearing the sound of the water makes them feel comfortable, in fact. Is it not enough? Tourists are allowed to get in the water and take a bath for several minutes. The fresh water makes them refreshed at once, for sure. It is said the water helps them to eradicate stresses, as well. One thing, no one is allowed to spoil the cleanliness of the water.
What is next? An exploration becomes the next fun activity people can do in Ulem-Ulem Waterfall. The fact is that the site features a protected forest, where tourists can explore. During the adventure, they may encounter several wild animals, especially black monkeys! Despite their naughty behavior, the animals have been used to the presence of tourists. That means they would show friendly gesture when people get near to them. Make sure to carry some snacks or peanuts to feed those monkeys, though.
Another popular activity to do in Ulem-Ulem Waterfall is photography. That means tourists simply take pictures of the falls or other objects like monkeys, lush trees, etc. As for precaution, make sure to wear proper footwear when exploring the site. It is because the landscape is slippery or wet, especially in the rainy season. For those who carry snacks or drinks, they must take care of the trash either.
Nearby Attractions
Tetebatu Village
Rinjani Mountain
Sedang Gile Waterfall
Telaga Mountain
How to Get There
It is easy to reach Ulem-Ulem Waterfall. From Mataram City in Indonesia, travelers only need to head to Keruak Sub-District in Indonesia. The distance is 47.1 km and it takes about 1 hour and 30 minutes. Once they reach Keruak, the next destination is Tete Batu Village. The whole trip can be done through Mataram Raya – Sikur Street, actually.
Where to Stay
Sembalun Agro Villa
Green Orry Inn
Soedjono Hotel
Verve Villa

Latest News
Of the many tourist destinations in West Lombok Regency, West Nusa Tenggara, Mekarsari Narmada Park offers interesting tour packages. Tourists can try the Tri Sunah activity tour package. The Tri Sunnah are swimming, horse riding and archery. Mekarsari Narmada Park originated from the desire of local residents to take advantage of the existing agricultural potential. The management has built a new swimming pool on resident's land of 2,500 square besto the ide Pecatu village land of 4,500 square meters. The village land was turned into a park equipped with archery…
---
Kenawa Hill in Sumbawa Regency, West Nusa Tenggara Province Sumbawa Regency is part of West Nusa Tenggara Province and it consists of both land and sea natural attractions. The region even features an archipelago where many beautiful gilis or small islands reside. Kenawa Island is one of them and it is known for both the stunning sea and the famous Kenawa Hill. That means tourists should head to the island first if they want to explore and get on the top of the hill. At that spot, they can enjoy…
---
Sumbawa Regency is part of West Nusa Tenggara Province and it consists of both land and sea natural attractions. The region even features an archipelago where many beautiful gilis or small islands reside. Kenawa Island is one of them and it is known for both the stunning sea and the famous Kenawa Hill. That means tourists should head to the island first if they want to explore and get on the top of the hill. At that spot, they can enjoy several tourist activities like sightseeing, photography, camping, and short…
---
Well, some tourists are likely to look for unique vacation spots over time. It is because they want to get a new experience during the holidays. In this case, Sumbawa Regency offers Batu Bulan Dam! As the name suggests, the dam resides in Batu Bulan Village and it belongs to Moyo Hulu Sub-District. In terms of function, it is similar to other dams for sure. One thing that makes it different is related to the nuance. The beautiful landscape and merry atmosphere lure more people to enjoy sightseeing, photography, fishing,…
---