Penunjak Village in Lombok Island, Indonesia
---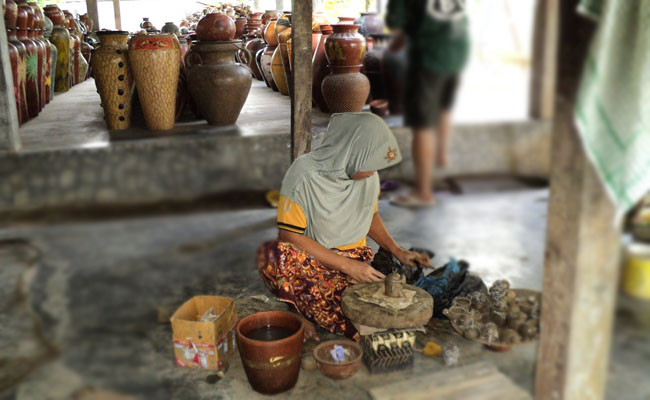 A beautiful island resides beside Bali and it is called Lombok. It is not as crowded as Bali but it shares similar beauty and characteristics to it. Perhaps many travelers have recognized Lombok due to its stunning beaches and pristine nature. However, more attractions are available like traditional villages. Here is an example, the name is Penunjak and it is recognized as the oldest village that produces pottery in the island. That means it is the pioneer of such art and has been influencing other villages to take part of it. For tourists, Penunjak definitely becomes a recommended tourist destination.
The Nuance
Due to its historical value and popularity, Penunjak is considered as the main tourist attraction in Lombok Island as compared to other villages (including Sakerlaba and Prisenggela). Instead of producing pearls like other suburbs, it focuses on pottery and similar products. Not only it becomes the souvenirs, the pottery has become a major income to the region. Not to mention it inspires people and local artists to create their own products. Moreover, the pottery owns an important philosophical value and arts.
Exploring Penunjak Village
The first thing tourists can do when coming to Penunjak Village is to learn the history of pottery. As mentioned before, the village was the pioneer of such craft. In the past, the locals made some jugs used for a traditional ritual (Adat Urip). They used the jug to store their baby's umbilical cord, actually. Another function of the jugs was the equipment for bathing the dead body! It is also said the locals use them for daily uses like cooking utensils. What about the philosophical value of those items? They consider pottery as the representation of humble life!
For those who are visiting Penunjak Village, they only need to head to Center Lombok. Once they arrive at the village, they might find many potters working on their products. The fact is that the majority of people in Penunjak are a potter. Each of them even owns a specialty when it comes to style and preferences. The most famous region when it is related to pottery finishing is Telage, though. Overall, tourists are allowed to visit and explore all of those regions either to learn, watch, or buy the pottery.
The best time to visit the potters is in the morning. The reason is that those people are still making preparation and free to talk to visitors. Later, tourists can watch the entire procedure of the pottery making as well. What about the price? Have no worries. Some potters even provide a cheaper price for their products. It gets cheaper if tourists are good in bargaining! As for the tip, they must come with a tour guide when it comes to looking for discounts.
Nearby Attractions
Mawi Beach
Narmada Temple
Meru Temple
How to Get There
From Mataram City, a trip to Penunjak Village takes about 1 hour. The distance between those areas is 33 km, actually. To be exact, Penunjak belongs to West Praya Sub-District and it belongs to Center Lombok District of Indonesia.
Where to Stay
Golden Palace Hotel
Werdhi Guesthouse
Aerotel Hotel

Latest News
Of the many tourist destinations in West Lombok Regency, West Nusa Tenggara, Mekarsari Narmada Park offers interesting tour packages. Tourists can try the Tri Sunah activity tour package. The Tri Sunnah are swimming, horse riding and archery. Mekarsari Narmada Park originated from the desire of local residents to take advantage of the existing agricultural potential. The management has built a new swimming pool on resident's land of 2,500 square besto the ide Pecatu village land of 4,500 square meters. The village land was turned into a park equipped with archery…
---
Kenawa Hill in Sumbawa Regency, West Nusa Tenggara Province Sumbawa Regency is part of West Nusa Tenggara Province and it consists of both land and sea natural attractions. The region even features an archipelago where many beautiful gilis or small islands reside. Kenawa Island is one of them and it is known for both the stunning sea and the famous Kenawa Hill. That means tourists should head to the island first if they want to explore and get on the top of the hill. At that spot, they can enjoy…
---
Sumbawa Regency is part of West Nusa Tenggara Province and it consists of both land and sea natural attractions. The region even features an archipelago where many beautiful gilis or small islands reside. Kenawa Island is one of them and it is known for both the stunning sea and the famous Kenawa Hill. That means tourists should head to the island first if they want to explore and get on the top of the hill. At that spot, they can enjoy several tourist activities like sightseeing, photography, camping, and short…
---
Well, some tourists are likely to look for unique vacation spots over time. It is because they want to get a new experience during the holidays. In this case, Sumbawa Regency offers Batu Bulan Dam! As the name suggests, the dam resides in Batu Bulan Village and it belongs to Moyo Hulu Sub-District. In terms of function, it is similar to other dams for sure. One thing that makes it different is related to the nuance. The beautiful landscape and merry atmosphere lure more people to enjoy sightseeing, photography, fishing,…
---