Restorative and Challenging Gerupuk Beach in Central Lombok
---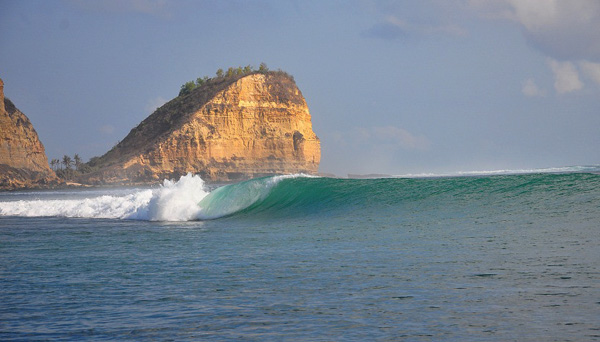 Central Lombok is one the most beautiful area in Lombok, it has many beaches lay across the coast. The purity of the nature, the sea, and the pearly white sand make these beaches as Lombok's greatest treasures. One of the iconic beaches in this area is Gerupuk Beach. Gerupuk Beach which located in southern coast of Lombok is the part of the Gerupuk Village of Central Lombok, this beach is located around Mandalika as well. The sheet of soft white sand with the gentle sweep of the crystal blue seawater create a tranquil and calm atmosphere in this beach. Located 65 south from Mataram, this beach is easily reached by everyone. It is also located only 9 km from Kuta Beach. People can drive with motorbikes or cars, and take about two hours to see this beach. The road towards this area is very well built and people can see some beautiful plantations of crops and traditional Sasak houses along the way. The pearly white sand and its beautiful scenery make Gerupuk Beach is one of the more popular destinations for tourists.
For those who enjoy surfing, it's a recommended to visit Gerupuk Beach. This beach is decently famous for its beautiful and adrenaline inducing wave. The wave, despite it seems very easy in the eyes, it actually is quite high and strong. This phenomenon makes Gerupuk Beach as one of the surfing spot in Lombok. In southeastern side of this beach, people can find five different surfing spots that are satisfying for the surfers. What make these five surfing spots unique are the traditional nicknames that are given by the villagers and the international nicknames given by foreign surfers. These names are Batu Teong (Dondon), Prigi (Inside), Giligoleng (Outside), Batu Lawang (Kids Point), and Terasaq (Outside Left). The waves in these spots are considerably wild and can be 3 meters high, thus make it very challenging for surfers to beat them.
Other popular and interesting activities for tourists in Gerupuk Beach are swimming, playing in the sand and climbing the hills. People can enjoy the view of this beach from the other side by climbing the surrounding hills. Some higher hills around the beach attract visitors to come and challenge the track. The track leading to the top is quite rough, it can be reached by foot but there are also some villagers who rent motorbikes. The view of Gerupuk Beach looks even more beautiful if we see it from the top of the hill. People can also witness the sunset from the top of the hill, and enjoy the magnificent view of the sky.
When people are satisfied with the beach, people can take a stroll in the villages nearby. Along the road, people can find local cafes that serve traditional foods which are run by these villagers. Some villagers even turn their houses into homestays for tourists. After a longer walk, we can find some colorful tents. We can see some women from the village clean and sort the seaweed. These seaweeds are packed with huge bags. These huge bags will be sent to Bali and Java. The majority of the villagers work as fishermen, seaweed farmers, and fish farmers. Some of them also open shops which rent surfing equipment, snorkels, and boats. There is also a Sea Conservation Center. People can learn more about sea creatures and its ecosystem.
How to get there:
Gerupuk Beach is situated at the eastern part of Kuta Beach. For about 8 km and 4 km distance from Kuta Beach and Tanjung Aan respectively, it is relatively easy to follow the route to find this beautiful beach. Commonly, tourists who come to this beach use two mode of transportations namely car and motorbike. You can rent a car from Mataram or renting a motorbike from Kuta Beach. Yet, if you want to use public transportation from Mataram, you can use 'angkot' which route can be described as Mataram – Bertais – Praya – Sengkol. From Sengkol, take another 'angkot' to Kuta and you can continue with rented motorbike.

Latest News
Of the many tourist destinations in West Lombok Regency, West Nusa Tenggara, Mekarsari Narmada Park offers interesting tour packages. Tourists can try the Tri Sunah activity tour package. The Tri Sunnah are swimming, horse riding and archery. Mekarsari Narmada Park originated from the desire of local residents to take advantage of the existing agricultural potential. The management has built a new swimming pool on resident's land of 2,500 square besto the ide Pecatu village land of 4,500 square meters. The village land was turned into a park equipped with archery…
---
Kenawa Hill in Sumbawa Regency, West Nusa Tenggara Province Sumbawa Regency is part of West Nusa Tenggara Province and it consists of both land and sea natural attractions. The region even features an archipelago where many beautiful gilis or small islands reside. Kenawa Island is one of them and it is known for both the stunning sea and the famous Kenawa Hill. That means tourists should head to the island first if they want to explore and get on the top of the hill. At that spot, they can enjoy…
---
Sumbawa Regency is part of West Nusa Tenggara Province and it consists of both land and sea natural attractions. The region even features an archipelago where many beautiful gilis or small islands reside. Kenawa Island is one of them and it is known for both the stunning sea and the famous Kenawa Hill. That means tourists should head to the island first if they want to explore and get on the top of the hill. At that spot, they can enjoy several tourist activities like sightseeing, photography, camping, and short…
---
Well, some tourists are likely to look for unique vacation spots over time. It is because they want to get a new experience during the holidays. In this case, Sumbawa Regency offers Batu Bulan Dam! As the name suggests, the dam resides in Batu Bulan Village and it belongs to Moyo Hulu Sub-District. In terms of function, it is similar to other dams for sure. One thing that makes it different is related to the nuance. The beautiful landscape and merry atmosphere lure more people to enjoy sightseeing, photography, fishing,…
---