Join The Celebration of Legendary Story at Bau Nyale Festival
---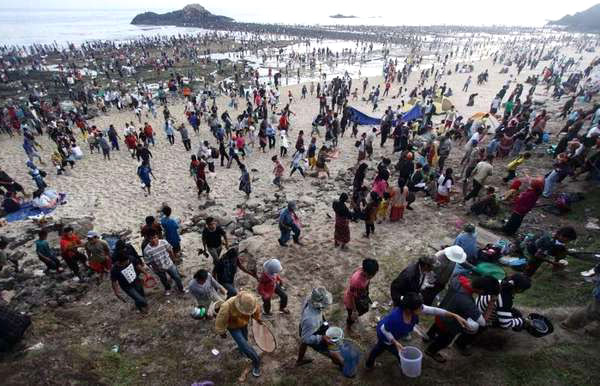 Central Lombok is one of the area in Nusa Tenggara Barat. In this area, there are some notorious beaches that are very well known by local and international tourists. These beaches are Seger and Kuta Beach, located in the southern coast of Lombok, approximately 65 km from Mataram, the capital city of Lombok. The beauty of this beach mesmerizes everyone who come to visit. The combination of crystal blue seawater, soft sheet of white sand, and the gentle ocean breeze make these beaches as the icons of Lombok. Besides its nature, this beach also have another exotic attraction for tourists. Once a year, during February and March to be exact, a festival called Bau Nyale is held by the villagers around the beach. Bau means catch in Sasak language, and Nyale means a kind of seaworm that lives underwater inside the coral holes. Bau Nyale is a legendary phenomenon and sacred tradition of Sasak, the indigenous tribe of Lombok, which holds great cultural value. Bau Nyale tied with the traditional story that was originated from the southern part of Central Lombok, precisely in the village called Pujut. The story revolved around the sacrifice of one Princess to save her beloved kingdom.
Once upon a time, in the southern beach of Lombok, there was a kingdom called Tunjung Bitu. This kingdom was led by a king called Tonjang Beru and his queen Dewi Seranting. Tonjang Beru had a daughter, she was beautiful, intelligent, and wise, her name was Mandalika. The story about her beauty and grace was spread across the nation. Every Princes who saw Mandalika became infatuated by her charm. Each day, different Princes came to ask Mandalika to be their wife. Mandalika, was too gentle and kind, she never refused any of those proposals. Because of her choice, these princes then came to an agreement, they will battle each other in a war, and whoever came out on top can marry Mandalika. Mandalika knew that there would be a pointless bloodbath because of this, she took the responsibility and determined to put this chaos to an end. She invited all princes and their people to Seger Kuta Beach. Mandalika said that she would do anything to keep the peace of this kingdom, after her speech, she jumped to the ocean and was reincarnated as Nyale, the seaworms. People believed that Nyale carries the soul of Mandalika, so they hold the festival to commemorate her sacrifice.
Bau Nyale ceremony is one of the main attraction of this beach, it is highly anticipated by tourists and travelers who visit Lombok. The government of central Lombok also names Bau Nyale as a national cultural event that is considered as one of the asset of Indonesian cultural activities. This tradition was already held since the 16th century. During the ceremony, people swarming around along the southern coast, especially in Seger Kuta Beach, to catch Nyale. Following the development of the tourism section of the area, Bau Nyale is also tied with other traditional rituals. There are Bertandak (a traditional poetry event), Bejambik (a ceremony to give presents to lovers), also Belancaran (sailing with a boat), and the maint event is the colossal play that tells the story of Mandalika.
According to locals' belief, these Annelids or people call them palolo worm (Eunice Fucata) will bring prosperity especially for their crops. Nyale that are already caught, usually used as fertilizer for their crops. People also use Nyale as the ingredient for different kind of products such as Emping Nyale (crackers), meals, Viagra, and many others. Scientific research also states that Nyale has a high amount of protein and able to kills bacteria. The most important thing is Bau Nyale as the symbol of unity and solidarity among the people of Central Lombok that holds great cultural values.
How to get there:
Taking place either at Kuta Beach or Seger Beach, Bau Nyale Festival which also becomes one of the national agenda to be held in Lombok is easily reached by those who would like to participate. Kuta Beach and Seger Beach are famous tourism spots that will make you easy to reach both beaches. Actually, Seger Beach is only 2 km away from it. For those who are coming from Lombok International Airport from other big cities like Bali, Jakarta, or Surabaya, start to walk to Bundaran BIL (Bandara Internasional Lombok). There, you have to wait for the public transportation called angkot which heads to Sengkol. Arrive at Sengkol, you have to change to another angkot that will bring you to Kuta Beach. When the festival is held at Kuta Beach, you can stop there yet if the festival is at Seger Beach, you need to go about 200 meters to east from Kuta Beach and follow the sign. When you reach the first intersection, do turn left and about 1 km from there, you will definitely find the beautiful Seger Beach.

Latest News
Of the many tourist destinations in West Lombok Regency, West Nusa Tenggara, Mekarsari Narmada Park offers interesting tour packages. Tourists can try the Tri Sunah activity tour package. The Tri Sunnah are swimming, horse riding and archery. Mekarsari Narmada Park originated from the desire of local residents to take advantage of the existing agricultural potential. The management has built a new swimming pool on resident's land of 2,500 square besto the ide Pecatu village land of 4,500 square meters. The village land was turned into a park equipped with archery…
---
Kenawa Hill in Sumbawa Regency, West Nusa Tenggara Province Sumbawa Regency is part of West Nusa Tenggara Province and it consists of both land and sea natural attractions. The region even features an archipelago where many beautiful gilis or small islands reside. Kenawa Island is one of them and it is known for both the stunning sea and the famous Kenawa Hill. That means tourists should head to the island first if they want to explore and get on the top of the hill. At that spot, they can enjoy…
---
Sumbawa Regency is part of West Nusa Tenggara Province and it consists of both land and sea natural attractions. The region even features an archipelago where many beautiful gilis or small islands reside. Kenawa Island is one of them and it is known for both the stunning sea and the famous Kenawa Hill. That means tourists should head to the island first if they want to explore and get on the top of the hill. At that spot, they can enjoy several tourist activities like sightseeing, photography, camping, and short…
---
Well, some tourists are likely to look for unique vacation spots over time. It is because they want to get a new experience during the holidays. In this case, Sumbawa Regency offers Batu Bulan Dam! As the name suggests, the dam resides in Batu Bulan Village and it belongs to Moyo Hulu Sub-District. In terms of function, it is similar to other dams for sure. One thing that makes it different is related to the nuance. The beautiful landscape and merry atmosphere lure more people to enjoy sightseeing, photography, fishing,…
---