Unwinding Your Soul at The Beautiful yet Refreshing Top of Dundang Hill
---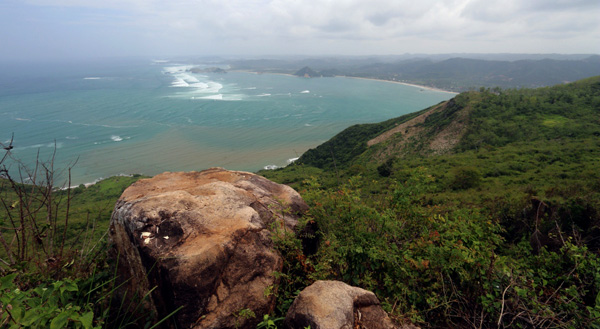 Lombok is known for its beautiful natural landscapes, there are beautiful beaches with white sand and blue seawater, hills with a green and natural view, traditional villages with full of cultures, plantations, rivers, waterfalls, and mountains. There is one hill in Lombok which will give us a wide and clear view of beaches and sea from up there. This hill is called Bukit (hill in Bahasa) Dundang.
Along the way towards Dundang Hill, we can see a beautiful view of the sky, there are also small colorful birds flying around us and feel the soft breeze of wind, such a very relaxing nuance. After 45 minutes' drive from the entrance to the area of Gunung Prabu, we will arrive on the top of Dundang Hill. From the top of the hill, we can see an amazing view down there. A beautiful combination between a very long coast with white sand and blue seawater will give our eyes a pleasing vision of nature. From the top of the hill, we can see the coast of Kuta Lombok Beach, Seger Beach, Bukit Merese, and Bukit TWA Gunung Tunak. We can stand on top of the big stone and feel the sensation of being on the top of the world, it almost seems that we could see a piece of paradise on earth. Spending time with families, eating lunch or picnic, or having a great time with our lovers, would be a unforgettable experience.
In Dundang Hill, we can also do a lot of activities, such as picnic, take great photos, jungle trekking towards Dundang Beach that is located under the hill, and set up tents for camp. We can go on a little adventure through the small jungle and green area that leads towards the Dundang Beach. We can see buffalos, goats, or cows and trees along the way. Dundang Beach itself is pretty small, but similar to the other beaches in Lombok, it has white sand and blue seawater. For more experienced travelers, set up a camping spot around this area is also recommended. Enjoy the moonlight on top of the hill, seeing stars up in the sky and listen to the sound of the sea would be a very pleasing moment for you. In the following morning, we will be amazed by the stunning sunrise.
Although Lombok is mainly famous for its beaches, there are other options for vacation and travelling indeed. One of the best choice is Dundang Hill. It is a wonderful place, but takes quite an effort to reach it. All the effort and hard work to reach the hill will be paid off by the amazing view and experience.
How to get there:
Located in Gunung Prabu Area, in Pujut Village of Central Lombok. Dundang Hill is approximately 50 km from Mataram, the capital city of Lombok, and can be reached with motorbikes in 1,5 or 2 hours of drive. Since this location of Dundang Hill is after the Kuta Beach location and when you come from Lombok International Airport. You can start from the Bundaran BIL (Bandara Internasional Lombok) to wait for public transportation (angkot) that will bring you to Sengkol. Then, you have to change to another angkot that will bring you directly to Kuta Beach in Kuta. From Kuta you can continue to Gunung Prabu Area and Dundang Hill by the direction board that lead you right to the location.

Latest News
Of the many tourist destinations in West Lombok Regency, West Nusa Tenggara, Mekarsari Narmada Park offers interesting tour packages. Tourists can try the Tri Sunah activity tour package. The Tri Sunnah are swimming, horse riding and archery. Mekarsari Narmada Park originated from the desire of local residents to take advantage of the existing agricultural potential. The management has built a new swimming pool on resident's land of 2,500 square besto the ide Pecatu village land of 4,500 square meters. The village land was turned into a park equipped with archery…
---
Kenawa Hill in Sumbawa Regency, West Nusa Tenggara Province Sumbawa Regency is part of West Nusa Tenggara Province and it consists of both land and sea natural attractions. The region even features an archipelago where many beautiful gilis or small islands reside. Kenawa Island is one of them and it is known for both the stunning sea and the famous Kenawa Hill. That means tourists should head to the island first if they want to explore and get on the top of the hill. At that spot, they can enjoy…
---
Sumbawa Regency is part of West Nusa Tenggara Province and it consists of both land and sea natural attractions. The region even features an archipelago where many beautiful gilis or small islands reside. Kenawa Island is one of them and it is known for both the stunning sea and the famous Kenawa Hill. That means tourists should head to the island first if they want to explore and get on the top of the hill. At that spot, they can enjoy several tourist activities like sightseeing, photography, camping, and short…
---
Well, some tourists are likely to look for unique vacation spots over time. It is because they want to get a new experience during the holidays. In this case, Sumbawa Regency offers Batu Bulan Dam! As the name suggests, the dam resides in Batu Bulan Village and it belongs to Moyo Hulu Sub-District. In terms of function, it is similar to other dams for sure. One thing that makes it different is related to the nuance. The beautiful landscape and merry atmosphere lure more people to enjoy sightseeing, photography, fishing,…
---