Endok / Induk Beach in Garung Sub-District, West Lombok Regency - Indonesia
---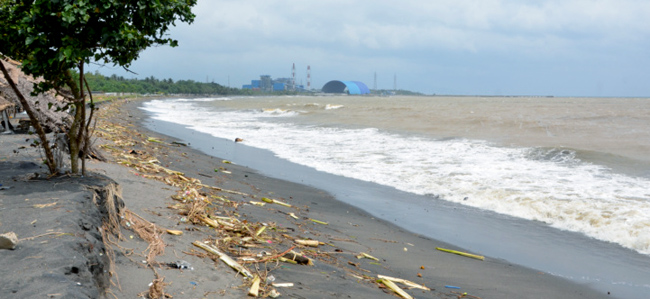 Another interesting beach to visit in Lombok Island is called Endok. Some locals call it Induk Beach, though. The location is in Garung Sub-District and it belongs to West Lombok Regency. To be exact, it resides near to Taman Ayu Village. Not only the beach offers charming sea scenery, it also provides a unique atmosphere like the presence of local fishermen who live in the nearby village. Not to mention the beach becomes quite crowded during holidays and the New Year. Lots of tourists would like to visit the beach in order to enjoy its nuance and witness local's activity like fishing.
The Nuance
Once tourists get to Endok Beach, the first thing they notice is definitely the formation of coconut trees. These objects are scattered in some parts of the beach and become good spots for relaxation. Instead of featuring white sand, the beach offers exotic black sand. Still, tourists can enjoy beach walking comfortably on the site. Thanks to the government. The beach has undergone some improvements, especially in terms of facilities. Thus, visitors can spend the vacation well there. The fact is that Endok becomes in the prime list of Lombok beaches for tourists to visit!
Exploring Endok Beach
One of the reasons to visit Endok Beach is the trip. In order to reach the site, tourists should pass through some landmarks and beautiful nature scenery. They even may encounter a famous PLTU (electricity generator) when reaching the beach. Tourists also have the opportunity to drop by in some villages in order to buy local foods or equipment before visiting Endok. The villagers are friendly and they are always ready to help strangers regarding tourist information and routes. That means beginners can easily find the beach despite lacking experience.
When it comes to activities, Endok Beach is suitable for playing water and building a sand castle. No wonder, many local families are seen on the location as they want to spend a family recreation with their beloved ones. Have no worries. Some toilets are available so tourists can use them either for changing clothes or other needs. Another important facility is the set of local food vendors who conduct their business on the site. That means tourists can buy some snacks and drinks, especially fresh coconuts!
What is next? Another charm of the beach is the local's activity. Many fishermen are seen on the beach in the morning. Tourists have the opportunity to help them to prepare the hunt in the morning, too! For the lucky ones, the fishermen even would give some fishes they have caught. When it comes to swimming, the beach features calm waves so it is safe for everyone including kids. Though, parents should keep their eyes on their children in order to avoid problems.
Nearby Attractions
Narmada Temple
Narmada Park
Mawi Beach
How to Get There
Usually, tourists come from Mataram City and they may spend about 40 minutes to reach Gerung Sub-District. Along the way to the site, they need to pass through some checkpoints like Perampuan Village and Pengsong Hill as well. Lastly, their destination is Taman Ayu Village where the beach resides
Where to Stay
Gili Nanggu Cottages
Novotel Hotel
Hart Hotel

Latest News
Of the many tourist destinations in West Lombok Regency, West Nusa Tenggara, Mekarsari Narmada Park offers interesting tour packages. Tourists can try the Tri Sunah activity tour package. The Tri Sunnah are swimming, horse riding and archery. Mekarsari Narmada Park originated from the desire of local residents to take advantage of the existing agricultural potential. The management has built a new swimming pool on resident's land of 2,500 square besto the ide Pecatu village land of 4,500 square meters. The village land was turned into a park equipped with archery…
---
Kenawa Hill in Sumbawa Regency, West Nusa Tenggara Province Sumbawa Regency is part of West Nusa Tenggara Province and it consists of both land and sea natural attractions. The region even features an archipelago where many beautiful gilis or small islands reside. Kenawa Island is one of them and it is known for both the stunning sea and the famous Kenawa Hill. That means tourists should head to the island first if they want to explore and get on the top of the hill. At that spot, they can enjoy…
---
Sumbawa Regency is part of West Nusa Tenggara Province and it consists of both land and sea natural attractions. The region even features an archipelago where many beautiful gilis or small islands reside. Kenawa Island is one of them and it is known for both the stunning sea and the famous Kenawa Hill. That means tourists should head to the island first if they want to explore and get on the top of the hill. At that spot, they can enjoy several tourist activities like sightseeing, photography, camping, and short…
---
Well, some tourists are likely to look for unique vacation spots over time. It is because they want to get a new experience during the holidays. In this case, Sumbawa Regency offers Batu Bulan Dam! As the name suggests, the dam resides in Batu Bulan Village and it belongs to Moyo Hulu Sub-District. In terms of function, it is similar to other dams for sure. One thing that makes it different is related to the nuance. The beautiful landscape and merry atmosphere lure more people to enjoy sightseeing, photography, fishing,…
---