Enjoy the Tranquility of Teluk Ekas in East Lombok
---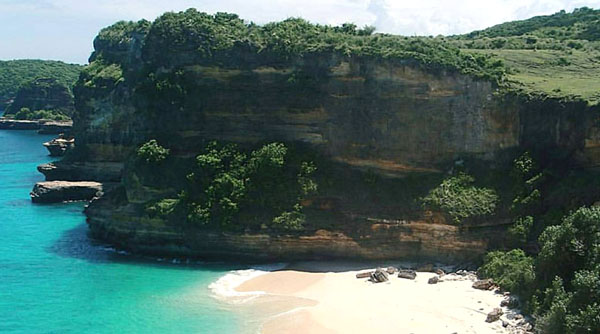 The moment you want to spend the Me time and expect to revitalize your life, Teluk Ekas will be your best choice in East Lombok. The tranquil Teluk Ekas will bring solace and peaceful nuance for your soul. Situated at Ekas village, Jerowaru, East Lombok, Teluk Ekas is an area of fisherma. Therefore, you can live alongside the local fishermen in a humble manner, or just enjoying its amazingly beautiful nature view.
Teluk Ekas has a shiny white sand that feels very soft and seems like a desert of diamonds. You will also find some beaches around this area, such as Sawung beach, Planet beach, Batunampar beach, Surga beach, and some more. On the eastern side, you can see a high wall of coral reef that looks rigid and strong. Meanwhile on the northern side you can see the highest point of Lombok Island, the majestic Rinjani Mountain.
Despite many beaches that surround this area, if you are still wondering and have a hard time to decide which beach that is worth to visit, put Teluk Ekas on the top of your list. The beach in Teluk Ekas has a moderately calm water, the waves are gentle with the crystal clear blue seawater. It is perfect for snorkeling, swimming, and fishing. Don't forget to bring your fishing and snorkeling equipment because around the area of Teluk Ekas, we can't find any equipment rentals.
Another interesting fact from Teluk Ekas is the activities of the fishermen. We can see around 50 floating platforms with a small boat resting on the side. These floating platforms are made by the fishermen to breed grouper fish and shrimp. We can also join the activities of these fishermen when they stay on the land. They usually make small boats and raft using simple tools and materials. Inside Berugak (small hut or gazebo) we can see the way people cut the fish, these are used for feeding the grouper that are being bred in the floating platforms. The grouper and shrimp will be sold to Bali and Lombok in the market or restaurants.
Being adventurous in this area is also safe. You can build your tent to spend your time longer here. Do prepare your camping equipment and you will have another serene experience during your stay. There are some fisherman's hut that is used to rest, to sleep, and to prepare the fishing net. Meanwhile, if you don't have any tent to stay, you can go and stay to the people houses. Enjoy your visit and explore the beaches around Teluk Ekas. The interesting spot near this Teluk Ekas is the saltwater lake which located in Jerowaru Lauk. In this lake, we can see how the local produce the salt grain traditionally. You can also take a part to the process actually.
How to get there:
Teluk Ekas is located 75 km south east of Mataram, the capital city of Lombok. It is recommended to use your own vehicles or rentals if you don't have any, because there is no public transportation to this place. From Mataram, we can take the route Mataram – Cakranegara – Kediri – Praya – Mujur – Ganti – Keruak – Jerowaru – Ekas. The route towards this area is particularly well built and you also can find the direction board that will lead you to the right path.

Latest News
Of the many tourist destinations in West Lombok Regency, West Nusa Tenggara, Mekarsari Narmada Park offers interesting tour packages. Tourists can try the Tri Sunah activity tour package. The Tri Sunnah are swimming, horse riding and archery. Mekarsari Narmada Park originated from the desire of local residents to take advantage of the existing agricultural potential. The management has built a new swimming pool on resident's land of 2,500 square besto the ide Pecatu village land of 4,500 square meters. The village land was turned into a park equipped with archery…
---
Kenawa Hill in Sumbawa Regency, West Nusa Tenggara Province Sumbawa Regency is part of West Nusa Tenggara Province and it consists of both land and sea natural attractions. The region even features an archipelago where many beautiful gilis or small islands reside. Kenawa Island is one of them and it is known for both the stunning sea and the famous Kenawa Hill. That means tourists should head to the island first if they want to explore and get on the top of the hill. At that spot, they can enjoy…
---
Sumbawa Regency is part of West Nusa Tenggara Province and it consists of both land and sea natural attractions. The region even features an archipelago where many beautiful gilis or small islands reside. Kenawa Island is one of them and it is known for both the stunning sea and the famous Kenawa Hill. That means tourists should head to the island first if they want to explore and get on the top of the hill. At that spot, they can enjoy several tourist activities like sightseeing, photography, camping, and short…
---
Well, some tourists are likely to look for unique vacation spots over time. It is because they want to get a new experience during the holidays. In this case, Sumbawa Regency offers Batu Bulan Dam! As the name suggests, the dam resides in Batu Bulan Village and it belongs to Moyo Hulu Sub-District. In terms of function, it is similar to other dams for sure. One thing that makes it different is related to the nuance. The beautiful landscape and merry atmosphere lure more people to enjoy sightseeing, photography, fishing,…
---