The Exotic yet Refreshing Beach of Kuta Beach in Lombok
---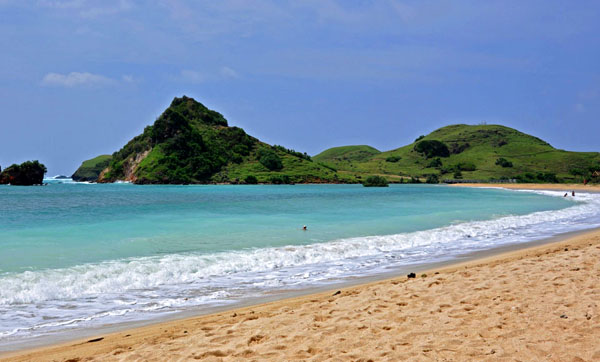 If you hear about Kuta, first thing that pops up in your mind must be Kuta in southern Bali, but not many people know that there is another Kuta in Lombok. Kuta is actually an area located in southern Lombok, and one of the entrance to some beaches around the site. Located approximately 60 km south of Mataram, it takes about one hour and a half drive from the city, and about 30 minutes from the airport. It is not really far from the main city and the road to the beach is very well built. The access to the area is very easy, and can be reached effortlessly by cars or motorbikes. We could see beautiful farms and villages along the road while enjoying warm sun during the day.
Close to Kuta there are some traditional villages where Sasak (local tribe of Lombok) inhabits the area. We could see traditional houses made from bamboos, locals do their daily activities, and if we're lucky we could come across some local festivals being held in some small villages. As a traditional fishing villages, we could fell the calmness of the people, very quiet but full of cultures to witness. Locals live remotely from the modern vibe of the main city and remain humble and close to the nature. They also don't get really affected by tourist activities and treat most of them as their own family if we act properly and respect the people.
The route towards the feels really natural and refreshing with rice fields and untouched green areas, very different from what we usually see in the city. Finding Kuta shouldn't be a difficult task to do, a big KUTA LOMBOK sign welcomes every tourist that come to visit this small but beautiful beach. Kuta isn't too crowded since the waves are not as big as the other beaches, thus make it perfect for children or families that want to spend a lazy afternoon in the beach. The landscape itself is pretty unique, one small rocky area divides this beach into two parts, usually one part has more sun before afternoon, and the other part will have more sun during afternoon. Taking a small walk on the white grainy sand while enjoying sea breeze and its clear water makes a trip to Kuta very relaxing.
As one of the tourism icon of Lombok, Kuta provides numerous accommodations for tourists, from water sports, restaurants and hotels. Across the road, we can find large selection of hotels, from the smaller ones until the luxurious resorts. Shops are easily being found by the tourists along the beach which provides daily necessities. Restaurants are also available in pretty much every corner of the street for meals. Tourists could also choose the option for staying in local homestays, spending time with locals in their houses while participating in their daily activities and tasting their homemade gourmet for a more cultural experience. The calmness of the sea, beautiful view, and its close distance to the main city make Kuta a perfect choice for a short-day trip for local or international tourists.
How to get there:
The access to get to this Kuta beach is relatively easy and can be reached from some famous spots. First, if you are coming from Lombok International Airport from other big cities like Bali, Jakarta, or Surabaya, you can take a short walk to the Bundaran BIL (Bandara Internasional Lombok). From there, you have to wait for the public transportation (it's called angkot) which heads to Sengkol. Then, you have to change to another angkot that will bring you directly to Kuta Beach in Kuta. Second, if you opt bus as your transportation choice from Bali, you can start from Mengwi bus station in Denpasar to head to Mataram at Bertais Mandalika bus station. Then take an angkot to Praya and continue your journey to Sengkol. As same as the previous route, from Sengkol you will head to Kuta Beach by another angkot. Third is from Labuan Bajo. From Ferry Labuan Bajo's port you can take ferry to Sape Ferry port. After that, you can continue to Bima bus station by angkot. As the matter of fact, angkot is such a very significant public transportation. It is integrated to reach some tourist destination. From Bima bus station, do take angkot to head to Kopang and there you will find another angkot to Praya. The same route is applied from Praya to Kuta Beach in Kuta.

Latest News
Of the many tourist destinations in West Lombok Regency, West Nusa Tenggara, Mekarsari Narmada Park offers interesting tour packages. Tourists can try the Tri Sunah activity tour package. The Tri Sunnah are swimming, horse riding and archery. Mekarsari Narmada Park originated from the desire of local residents to take advantage of the existing agricultural potential. The management has built a new swimming pool on resident's land of 2,500 square besto the ide Pecatu village land of 4,500 square meters. The village land was turned into a park equipped with archery…
---
Kenawa Hill in Sumbawa Regency, West Nusa Tenggara Province Sumbawa Regency is part of West Nusa Tenggara Province and it consists of both land and sea natural attractions. The region even features an archipelago where many beautiful gilis or small islands reside. Kenawa Island is one of them and it is known for both the stunning sea and the famous Kenawa Hill. That means tourists should head to the island first if they want to explore and get on the top of the hill. At that spot, they can enjoy…
---
Sumbawa Regency is part of West Nusa Tenggara Province and it consists of both land and sea natural attractions. The region even features an archipelago where many beautiful gilis or small islands reside. Kenawa Island is one of them and it is known for both the stunning sea and the famous Kenawa Hill. That means tourists should head to the island first if they want to explore and get on the top of the hill. At that spot, they can enjoy several tourist activities like sightseeing, photography, camping, and short…
---
Well, some tourists are likely to look for unique vacation spots over time. It is because they want to get a new experience during the holidays. In this case, Sumbawa Regency offers Batu Bulan Dam! As the name suggests, the dam resides in Batu Bulan Village and it belongs to Moyo Hulu Sub-District. In terms of function, it is similar to other dams for sure. One thing that makes it different is related to the nuance. The beautiful landscape and merry atmosphere lure more people to enjoy sightseeing, photography, fishing,…
---