Awang Beach in Pujut Sub-District, Central Lombok Regency - Indonesia
---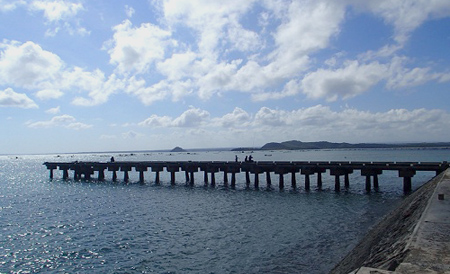 People have different opinions when it comes to spending a holiday in Lombok Island of Indonesia. Some of them decide to enjoy the culture while others want to explore all available beaches in such beautiful island. In this case, Awang Beach should be in the list of such objective due to its good spots for fishing. So, where is it? As the name suggests, the beach is located in Awang Village and it belongs to Pujut Sub-District. Not to mention it resides near to the famous Mandalika Beach, which is about 15 km.
The Nuance
A feature makes Awang different than other beaches in Lombok Island, which are the presence of the pier and a project of PPN (Nation's Fishery Port). A nearby hill is also seen where tourists often use for sightseeing and exploration. From above of the hill, the views look better and more appealing for sure. Another fact that makes Awang unique is the presence of abundant fishes in the sea. This explains why lots of people coming to the beach for fishing, even though they need to carry their own equipment.
Exploring Awang Beach
For those who love fishing, Awang Beach can be a good destination for a vacation in Indonesia. As for the tip, the best spot to perform the activity is in the pier (but tourists must come early to get the spot). Despite the hot atmosphere, tourists are likely to spend hours to conduct fishing or until they get the biggest fish they can catch. As mentioned before, the only consideration is that no facilities are available in Awang so everyone should carry the fishing rod or have prepared other necessary equipment beforehand.
Apart from fishing, Awang Beach is good enough to enjoy sightseeing. Many interesting attractions can be seen like Keramba (fish storage), local fishermen's boats, mangroves, and white sand. All of them combine into a great panorama which is worth a photo shoot, too. No wonder, carrying a camera becomes a necessity when visiting the beach. Some villagers are also seen working near to the beach! It is because most of them are either seaweed farmers or fishermen. That means tourists have the chance to learn how to cultivate such sea resources by their own eyes.
Visiting Awang Beach during weekends is more fun because many tourists are seen enjoying either fishing or exploration. Even though Awang is not as famous as Mandalika Beach, it owns a specialty that people cannot find in other beaches of Lombok. Not to mention the location is near to other attractions, so tourists can enjoy them all without spending too much time.
Nearby Attractions
Ekas Cape
Bangko-Bangko Natural Tourism
Mandalika Beach
How to Get There
Located in the east part of Mandalika Beach, Awang Beach becomes an alternative for a memorable holiday. For those coming from Mataram City in Indonesia, they can directly head to Pujut Sub-District that may take about 1 hour and 30 minutes. The distance is 70 km and tourists can choose the route through Praya Sub-District. Once they arrive at Pujut, another trip is required to reach Awang Village.
Where to Stay
Novotel Lombok
Tatsura Beach Hotel
Kuta Indah Hotel

Latest News
Of the many tourist destinations in West Lombok Regency, West Nusa Tenggara, Mekarsari Narmada Park offers interesting tour packages. Tourists can try the Tri Sunah activity tour package. The Tri Sunnah are swimming, horse riding and archery. Mekarsari Narmada Park originated from the desire of local residents to take advantage of the existing agricultural potential. The management has built a new swimming pool on resident's land of 2,500 square besto the ide Pecatu village land of 4,500 square meters. The village land was turned into a park equipped with archery…
---
Kenawa Hill in Sumbawa Regency, West Nusa Tenggara Province Sumbawa Regency is part of West Nusa Tenggara Province and it consists of both land and sea natural attractions. The region even features an archipelago where many beautiful gilis or small islands reside. Kenawa Island is one of them and it is known for both the stunning sea and the famous Kenawa Hill. That means tourists should head to the island first if they want to explore and get on the top of the hill. At that spot, they can enjoy…
---
Sumbawa Regency is part of West Nusa Tenggara Province and it consists of both land and sea natural attractions. The region even features an archipelago where many beautiful gilis or small islands reside. Kenawa Island is one of them and it is known for both the stunning sea and the famous Kenawa Hill. That means tourists should head to the island first if they want to explore and get on the top of the hill. At that spot, they can enjoy several tourist activities like sightseeing, photography, camping, and short…
---
Well, some tourists are likely to look for unique vacation spots over time. It is because they want to get a new experience during the holidays. In this case, Sumbawa Regency offers Batu Bulan Dam! As the name suggests, the dam resides in Batu Bulan Village and it belongs to Moyo Hulu Sub-District. In terms of function, it is similar to other dams for sure. One thing that makes it different is related to the nuance. The beautiful landscape and merry atmosphere lure more people to enjoy sightseeing, photography, fishing,…
---