The Historical Hill with Beautiful Landscape
---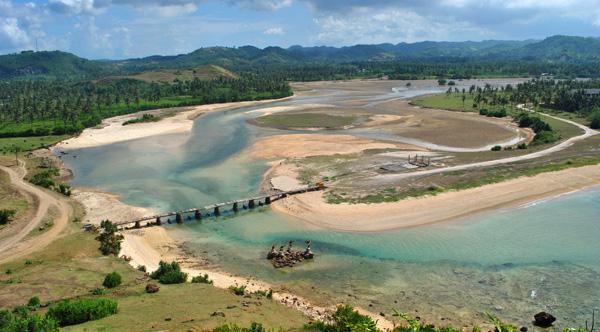 Mandalika is such a legendary place that local will always treasure. Believe that it has a long history about its name that becomes one of the best reason people should visit this tourist destination. The history of Mandalika itself is about a princess of Tonjang Beru Kingdom, led by the wise and powerful king Tonjang Beru and his wife Dewi Serinting. They had a daughter named Mandalika, a young and beautiful princess. Mandalika was a gentle and graceful young lady who was blessed with ethereal beauty. Not only stunning from the outside, she was also a kind and a warm young lady. Her beauty and kindness made her the respected princess of this Kingdom.
Mandalika's beauty was well-known, from the east side of Lombok all the way to the west side of the Island. Princes from different kind of kingdom were infatuated by her beauty and grace. Every day, these young men tried their luck to ask Mandalika to be their queen. Shame on these princes, Mandalika showed no interest and refused their proposals with such kind and soft spoken words. However, there were two princes who were furious after being rejected. Prince Datu Teruna and Prince Maliawang weren't pleased with her attitude, and sent their general to threaten Mandalika's kingdom. Each one of them proposed had Mandalika refused their proposals, the kingdom would be destroyed.
Mandalika was scared and went into a depression. She didn't want this chaos to be happened to her people. The reason why she refused all the proposals was because if she had chosen one prince, disasters and distress would occur in the kingdom. Mandalika refused to give up and went for meditation. She got a revelation during her meditation that on the 20th day of the 10th month (Sasak calendar) she must invite all the princes and their people to Kuta Beach before dawn. Six princes came with their people, thousands in number. It seemed as if thousands of ants swarming around the beach. When she finally arrived on the top of the hill, she said to all people that all she wanted is peace. She sacrificed herself by jumping off of the hill straight to the sea. That's why the hill is called Mandalika.
There are some statues which consists of Princess Mandalika and some young man who are running to catch her. Being the representation to what happened in the past, it is such an important spot for you to take picture and having an experience as to be the part of the legend. Besides that, you can get the incredible view of the beautiful spots around this hill. One of the most favorite view you can witness from this hill is Kuta Beach landscape. The crystal clear blue water and the white soft sand from Kuta Beach can be clearly seen from the top of Mandalika Hill. Looking for the best spot to refresh both the mind and the eyes, this Mandalika Hill should be on the top list. Last but not least, the beauty of both sunrise and sunset will complete the sensation of being in Mandalika Hill.
How to get there:
Doing the little hike to this Madalika Hill can be started from Kuta Beach. And the access to get to this Kuta beach is relatively easy. If you are coming from Lombok International Airport from other big cities like Bali, Jakarta, or Surabaya, you can take a short walk to the Bundaran BIL (Bandara Internasional Lombok). From there, you have to wait for the public transportation (it's called angkot) which heads to Sengkol. Then, you have to change to another angkot that will bring you directly to Kuta Beach in Kuta.

Latest News
Of the many tourist destinations in West Lombok Regency, West Nusa Tenggara, Mekarsari Narmada Park offers interesting tour packages. Tourists can try the Tri Sunah activity tour package. The Tri Sunnah are swimming, horse riding and archery. Mekarsari Narmada Park originated from the desire of local residents to take advantage of the existing agricultural potential. The management has built a new swimming pool on resident's land of 2,500 square besto the ide Pecatu village land of 4,500 square meters. The village land was turned into a park equipped with archery…
---
Kenawa Hill in Sumbawa Regency, West Nusa Tenggara Province Sumbawa Regency is part of West Nusa Tenggara Province and it consists of both land and sea natural attractions. The region even features an archipelago where many beautiful gilis or small islands reside. Kenawa Island is one of them and it is known for both the stunning sea and the famous Kenawa Hill. That means tourists should head to the island first if they want to explore and get on the top of the hill. At that spot, they can enjoy…
---
Sumbawa Regency is part of West Nusa Tenggara Province and it consists of both land and sea natural attractions. The region even features an archipelago where many beautiful gilis or small islands reside. Kenawa Island is one of them and it is known for both the stunning sea and the famous Kenawa Hill. That means tourists should head to the island first if they want to explore and get on the top of the hill. At that spot, they can enjoy several tourist activities like sightseeing, photography, camping, and short…
---
Well, some tourists are likely to look for unique vacation spots over time. It is because they want to get a new experience during the holidays. In this case, Sumbawa Regency offers Batu Bulan Dam! As the name suggests, the dam resides in Batu Bulan Village and it belongs to Moyo Hulu Sub-District. In terms of function, it is similar to other dams for sure. One thing that makes it different is related to the nuance. The beautiful landscape and merry atmosphere lure more people to enjoy sightseeing, photography, fishing,…
---