Visiting Gili Gede in Lombok, Indonesia
---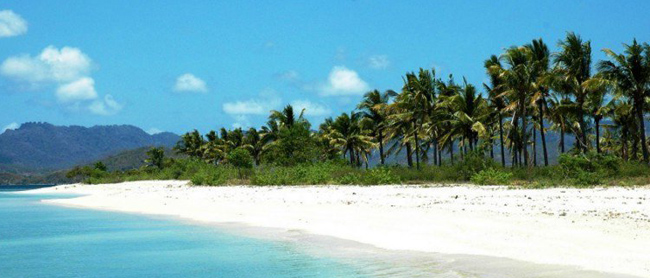 Visiting Gili Gede should be in all travelers' agenda when conducting a vacation in Lombok Island, Indonesia. Gede belongs to the list of Secret Gilis (Asahan, Ringgit, and Layan) and it is considered the most famous one as compared to others. This island is located in the southwest of Lombok and it features better options of accommodations for tourists to enjoy. With such facilities and resorts, tourists can enjoy a slow pace of nature either for a family vacation, honeymoon, or other purposes. This explains why Gili Gede has more visitors than nearby gilis, especially during long weekends.
The Nuance
Despite the secluded location and small size (but the biggest among Sekotong Gilis), tourists have no doubt to visit Gili Gede. They are impressed by nature and facilities provided there. Even some locals are often seen in the location, especially in the sea, to catch fishes! Most of them belong to Sasak Tribe and are still practicing old traditions. Yet, some of them are good in speaking English and often help foreign tourists to get around the island effectively. On top of that, they are quite friendly to everyone.
Exploring Gili Gede
Some tourists may have realized the fact that most of the gilis in Sekotong are considered Party Island or the place to enjoy a merry vacation. Unlike the siblings, Gili Gede features a more modest nuance but has rich natural resources. The locals take advantage of abundant fishes and pearls and make them as the primary regional income. The presence of 5 villages in Gili Gede makes it reliable to tourists, as well. That means visitors can easily find foods and drinks during their adventure. Not to mention good accommodations are available.
After visiting the local settlement, tourists can do the next activity, which is sunbathing. The slow pace of the beach creates a peaceful atmosphere to the site where tourists often conduct the activity. The north coast of Gili Gede is famous for its coral and white sand beach, while the west coast features both mudflats and mangroves. All of them, though, is worth a visit! Exploring all beaches in Gede does not take much time, after all.
Another charm of Gili Gede is its activity. Despite the serene nuance, the villagers work hard to earn money by exploiting the pearls and numerous fishes in the sea. For tourists, it is a good thing as they can witness the local activities and take some pictures of them. Genuine smiles of the villagers and passionate local kids would impress tourists during such adventure, too. Later, in the afternoon, they can visit some good spots to enjoy the stunning sunset while eating local dishes like Taliwang Chicken!
Nearby Attractions
Gili Layan
Gili Ringgit
Gili Asahan
How to Get There
The best thing is that tourists can use any type of vehicle to reach Gili Gede. The location is in Sekotong Sub-District and it takes about 2 hours from Mataram City. Later, travelers need to rent a speedboat in order to approach the island. The voyage takes more minutes if tourists go by a traditional boat, though.
Where to Stay
Madak Belo
Yut Inn
Via Vacare

Latest News
Of the many tourist destinations in West Lombok Regency, West Nusa Tenggara, Mekarsari Narmada Park offers interesting tour packages. Tourists can try the Tri Sunah activity tour package. The Tri Sunnah are swimming, horse riding and archery. Mekarsari Narmada Park originated from the desire of local residents to take advantage of the existing agricultural potential. The management has built a new swimming pool on resident's land of 2,500 square besto the ide Pecatu village land of 4,500 square meters. The village land was turned into a park equipped with archery…
---
Kenawa Hill in Sumbawa Regency, West Nusa Tenggara Province Sumbawa Regency is part of West Nusa Tenggara Province and it consists of both land and sea natural attractions. The region even features an archipelago where many beautiful gilis or small islands reside. Kenawa Island is one of them and it is known for both the stunning sea and the famous Kenawa Hill. That means tourists should head to the island first if they want to explore and get on the top of the hill. At that spot, they can enjoy…
---
Sumbawa Regency is part of West Nusa Tenggara Province and it consists of both land and sea natural attractions. The region even features an archipelago where many beautiful gilis or small islands reside. Kenawa Island is one of them and it is known for both the stunning sea and the famous Kenawa Hill. That means tourists should head to the island first if they want to explore and get on the top of the hill. At that spot, they can enjoy several tourist activities like sightseeing, photography, camping, and short…
---
Well, some tourists are likely to look for unique vacation spots over time. It is because they want to get a new experience during the holidays. In this case, Sumbawa Regency offers Batu Bulan Dam! As the name suggests, the dam resides in Batu Bulan Village and it belongs to Moyo Hulu Sub-District. In terms of function, it is similar to other dams for sure. One thing that makes it different is related to the nuance. The beautiful landscape and merry atmosphere lure more people to enjoy sightseeing, photography, fishing,…
---