Sukarara Village in Jonggat Sub-District, Lombok
---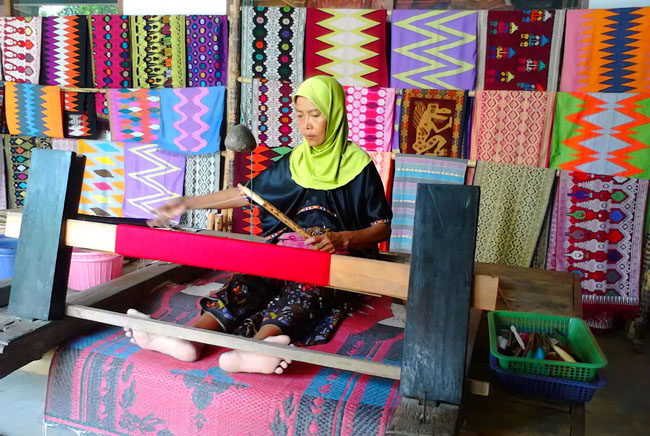 Apart from beaches, Lombok Island is known for its culture. Tourists have many options of villages to visit, in fact. One of them resides in Jonggat Sub-District and the name is Sukarara. It belongs to the list of local tourism and is famous for its traditional fabric. That means people who come to the village can either buy or watch the production of the fabric. The price is cheaper than buying from any distributors, as well. Not to mention the location of the village is near to the international airport of Lombok so everyone can reach it easily.
The Nuance
The fact is Sukarara Village consists of several areas including Belong Daye and Belong Lauk. Despite the difference, almost all women should learn how to produce local fabric. This tradition is called Nyesek and it becomes the prime requirement for a marriage. Thus, skilled girls would be easy in finding their mate when it comes to a local marriage. What about the nuance of the village? Like other old settlements in Lombok, it features many traditional houses and equipment. Most of the villagers belong to Sasak Tribe, too.
Exploring Sukarara Village 
The prime charm of Sukarara Village is the local fabric called "Songket". Due to its uniqueness and value, almost all visitors are likely to purchase one when they visit the village. The price is affordable and the quality is definitely top-notch. The best part is that many producers offer their products directly to the customers. What tourists need to do is to visit them and conduct bargaining for a cheaper price. As an alternative, they can rent a local guide to explore the village and find the best producer of Songket.
It does not have to be buying Songket. The reason is that tourists can learn and watch the production of such traditional fabric directly. It costs them nothing to watch the locals in creating a beautiful woven fabric. They even have an opportunity to make one, as long as a local woman is available to teach them. If not, tourists are allowed to pay the locals to teach the technique and rent the equipment. It is a worthy experience, so everyone should try it someday!
What makes Sukarara's Songket different than others? Well, it features mainly the golden-colored yarn which is both valuable and beautiful. Not to mention the locals own a special technique which has been passed down for generations. Not all people are able to create such fabric, in fact. What are the other attractions, though? Another reason to visit Sukarara Village is the culinary. Tourists should try delicious local specialties like Plecing and Taliwang Chicken!
Nearby Attractions
Tangsi Beach
Sade Village
Ringgit Cape
How to Get There
Once travelers arrive at Mataram City, their next destination is Jonggat Sub-District. They can take any local transportation service and ride through Mataram Raya Street. The trip takes about 1 hour and 30 minutes as the distance is 51 km. When it comes to accommodations, nearby hotels are available for them to rent.
Where to Stay
Link Homestay
Green Hayaq Hotel
Aerotel Mandalika
Green Ory Inn

Latest News
Of the many tourist destinations in West Lombok Regency, West Nusa Tenggara, Mekarsari Narmada Park offers interesting tour packages. Tourists can try the Tri Sunah activity tour package. The Tri Sunnah are swimming, horse riding and archery. Mekarsari Narmada Park originated from the desire of local residents to take advantage of the existing agricultural potential. The management has built a new swimming pool on resident's land of 2,500 square besto the ide Pecatu village land of 4,500 square meters. The village land was turned into a park equipped with archery…
---
Kenawa Hill in Sumbawa Regency, West Nusa Tenggara Province Sumbawa Regency is part of West Nusa Tenggara Province and it consists of both land and sea natural attractions. The region even features an archipelago where many beautiful gilis or small islands reside. Kenawa Island is one of them and it is known for both the stunning sea and the famous Kenawa Hill. That means tourists should head to the island first if they want to explore and get on the top of the hill. At that spot, they can enjoy…
---
Sumbawa Regency is part of West Nusa Tenggara Province and it consists of both land and sea natural attractions. The region even features an archipelago where many beautiful gilis or small islands reside. Kenawa Island is one of them and it is known for both the stunning sea and the famous Kenawa Hill. That means tourists should head to the island first if they want to explore and get on the top of the hill. At that spot, they can enjoy several tourist activities like sightseeing, photography, camping, and short…
---
Well, some tourists are likely to look for unique vacation spots over time. It is because they want to get a new experience during the holidays. In this case, Sumbawa Regency offers Batu Bulan Dam! As the name suggests, the dam resides in Batu Bulan Village and it belongs to Moyo Hulu Sub-District. In terms of function, it is similar to other dams for sure. One thing that makes it different is related to the nuance. The beautiful landscape and merry atmosphere lure more people to enjoy sightseeing, photography, fishing,…
---