Mandalika Resort : The Anticipated Masterpiece
---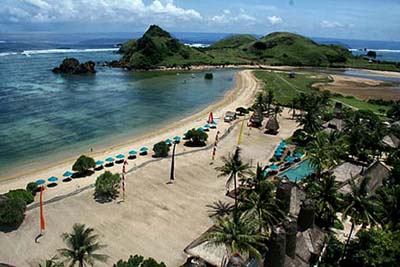 Mandalika is the true hidden gem of Lombok, a virgin private bay area with tremendous potential awaits to be resurrected. It is dubbed as the second Bali which brings hope for people in West Nusa Tenggara especially for the tourism sectors. As the "golden child" of tourism in Lombok island, this beautiful piece of nature is facing directly to Indian Ocean, its beauty is augmented by 16 km long beach with pearly white sand and beautiful hills surrounding it. The exotic culture and the mesmerizing view of Mandalika made millions of investors put their interest in this area, not only local government but international investors as well.
Not only its beautiful beach and hills, Mandalika also has a very rich historical value. The pearly white sand preserves a legendary story about a beautiful princess who once lived in this area. Once upon a time there was a Kingdom in Southern Lombok Beach called Sekar Muning. Mandalika was the princess of this Kingdom, a royal beauty with gleamy eyes and gorgeous long black hair.
Every single day hundreds of princes came to ask Mandalika to be their wife. Mandalika didn't want to choose anyone because she thought that if she chose one man, it would ensue chaos and war among Kingdoms. After a very long consideration, she invited all people to the hill. She began her speech and said that one thing that she ever wanted is peace and unity among the people. At the end of her speech, she sacrificed herself and jump off of the hill.
Now Mandalika will be reinvented as the gigantic world class resort. Jokowi as the recent Indonesian president, allocate roughly IDR 180 billion to ensure the development of the area. Jokowi agreed to do the "groundbreaking" towards "Special Economic Area" Mandalika in West Nusa Tenggara in August 2015. The project of Mandalika was abandoned in 1987 due to financial crisis and problems with the ownerships of lands around this area. Indonesia Tourism Development Corporation (ITDC) as the developer of this project is expected to utilize the budget to build basic infrastructures and invite investors to take part.
Indonesian government hoped that in 2015 the project could build hotels and cruise ship accommodation as the basic resort facility. Investors also participate to build a proper road as the primary access to these areas, by 2016 75% of the road is done and expected to be completely finished in following years. Local and International investors also planned to build 4 to 5 stars hotels, some investors also interested in building villas and high-end resorts around this area. Even in 2016 there were 2 investors who were interested to develop a resort in 10 acres area in two different locations in Mandalika.
Mandalika itself has 5 beautiful beaches, Pantai(beach) Kuta, Pantai Serenting, Tanjung Aan, Pantai Keliuw, and Pantai Gerupuk. According to the masterplan, an 80 acres long golf course will be built across Pantai Serinting to Tanjung Aan. Before in this area, a local company which is led by Indonesian Minister of Trade, previously planned to build eco-friendly facility to improve water quality and recycle of waste in a 350 acres area. Even one local company had plans to build a theme park in the area.
The development of Mandalika Resort cost billions as stated by the Indonesian President. Some projects are developed by local government and companies, and some projects will be developed by private companies. Mandalika Resort will continuously be developed in the next 20 years.
How to get there:
The location of this masterpiece Mandalika Resort that is going to be developed more to indulge the visitors is relatively near from the International Lombok Airport. It needs approximately 40 minutes long to drive you here from the airport. As the matter of fact that this resort is surrounded by the beautiful beaches such as Kuta, Serenting, and Tanjung Aan, you can reach this Mandalika Resort easily. You can take your own private car or rent a car, or even you can go from airport to Mandalika Resot by public transportation called angkot that heads to Sengkol. Then go with another angkot that bring you to Kuta. The area stretches from the edge of Kuta actually.

Latest News
Of the many tourist destinations in West Lombok Regency, West Nusa Tenggara, Mekarsari Narmada Park offers interesting tour packages. Tourists can try the Tri Sunah activity tour package. The Tri Sunnah are swimming, horse riding and archery. Mekarsari Narmada Park originated from the desire of local residents to take advantage of the existing agricultural potential. The management has built a new swimming pool on resident's land of 2,500 square besto the ide Pecatu village land of 4,500 square meters. The village land was turned into a park equipped with archery…
---
Kenawa Hill in Sumbawa Regency, West Nusa Tenggara Province Sumbawa Regency is part of West Nusa Tenggara Province and it consists of both land and sea natural attractions. The region even features an archipelago where many beautiful gilis or small islands reside. Kenawa Island is one of them and it is known for both the stunning sea and the famous Kenawa Hill. That means tourists should head to the island first if they want to explore and get on the top of the hill. At that spot, they can enjoy…
---
Sumbawa Regency is part of West Nusa Tenggara Province and it consists of both land and sea natural attractions. The region even features an archipelago where many beautiful gilis or small islands reside. Kenawa Island is one of them and it is known for both the stunning sea and the famous Kenawa Hill. That means tourists should head to the island first if they want to explore and get on the top of the hill. At that spot, they can enjoy several tourist activities like sightseeing, photography, camping, and short…
---
Well, some tourists are likely to look for unique vacation spots over time. It is because they want to get a new experience during the holidays. In this case, Sumbawa Regency offers Batu Bulan Dam! As the name suggests, the dam resides in Batu Bulan Village and it belongs to Moyo Hulu Sub-District. In terms of function, it is similar to other dams for sure. One thing that makes it different is related to the nuance. The beautiful landscape and merry atmosphere lure more people to enjoy sightseeing, photography, fishing,…
---