Seger Beach in Pujut Sub-District, Central Lombok Regency - Indonesia
---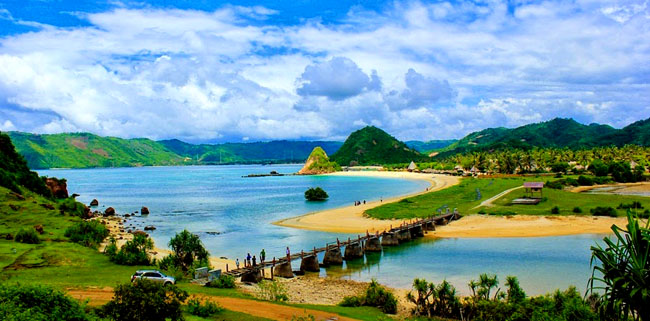 Lombok Island is known for the beaches. It is common knowledge, after all. The question is what beach makes a perfect holiday in Lombok Indonesia. Well, the options are just too many. As for the reference, tourists can choose Seger Beach. The location is in Kuta Village and it belongs to Pujut Sub-District. In terms of geography, the beach resides in the south part of Central Lombok Indonesia. It is famous for big waves, pristine nature, and comfortable wind. Not only it is popular among surfers, many families often come to the beach to conduct a vacation.
The Nuance
Many tourists may ask regarding the condition or nuance of Seger Beach. In a nutshell, the beach features several attractions tourists can enjoy. For example, it is the combination of brown and white sand. The structure of the beach is definitely stunning, featuring hills and many plants. When it comes to the sea, the waves are peaceful and the water is crystal clear. Even visitors can see the corals and fishes easily. Despite the calm sea, some parts of the beach feature stronger waves, which are suitable for surfing.
Exploring Seger Beach
The first thing people should know about Seger Beach is related to the local legend. It is said a beautiful princess came to the beach and turned into a worm. As for the complete story, people can learn it either from the locals or a tour agent. The legend often becomes an object of study, in fact. As for parents, they can use the story to both entertain and educate their kids too. What about the other attractions in Seger, though?
In order to enjoy a great vacation in Seger Beach, tourists should know different parts of the site. In the north, for the example, visitors can enjoy the peaceful sea and sloping beach. Not to mention it is the home of a famous monument called "Putri Mandalika". People usually take advantage of the monument as the background during photography. As an alternative, a bamboo bridge also resides there. It suits the object for selfies, as well.
In the center of Seger Beach Site, tourists might find a hilly area with some farms on it. No wonder, it is likely everyone is going to go hiking and reach the top of the hill. The purpose is none other than to see better sea scenery and nature views from above. For those who do not have much energy to hike, they can simply sit on the gazebos installed in that location. Another reference is the south part of Seger Beach. It features a famous Tengkong Reef, having the appearance like a mushroom.
Nearby Attractions
Merese Hill
Gerupuk Beach
Putri Nyale Beach
Mandalika Beach
How to Get There
From Mataram City of Indonesia, tourists can directly head to Pujut Sub-District. The distance between those locations is 55 km so the trip might take about 1 hour and 20 minutes. As for the best route, they can choose Lombok International Airport Bypass Street in Indonesia. On top of that, the trip features amazing nature and low traffic
Where to Stay
Novotel
Aerotel Testura
Origin Lombok
Kutamara Hotel


Latest News
Of the many tourist destinations in West Lombok Regency, West Nusa Tenggara, Mekarsari Narmada Park offers interesting tour packages. Tourists can try the Tri Sunah activity tour package. The Tri Sunnah are swimming, horse riding and archery. Mekarsari Narmada Park originated from the desire of local residents to take advantage of the existing agricultural potential. The management has built a new swimming pool on resident's land of 2,500 square besto the ide Pecatu village land of 4,500 square meters. The village land was turned into a park equipped with archery…
---
Kenawa Hill in Sumbawa Regency, West Nusa Tenggara Province Sumbawa Regency is part of West Nusa Tenggara Province and it consists of both land and sea natural attractions. The region even features an archipelago where many beautiful gilis or small islands reside. Kenawa Island is one of them and it is known for both the stunning sea and the famous Kenawa Hill. That means tourists should head to the island first if they want to explore and get on the top of the hill. At that spot, they can enjoy…
---
Sumbawa Regency is part of West Nusa Tenggara Province and it consists of both land and sea natural attractions. The region even features an archipelago where many beautiful gilis or small islands reside. Kenawa Island is one of them and it is known for both the stunning sea and the famous Kenawa Hill. That means tourists should head to the island first if they want to explore and get on the top of the hill. At that spot, they can enjoy several tourist activities like sightseeing, photography, camping, and short…
---
Well, some tourists are likely to look for unique vacation spots over time. It is because they want to get a new experience during the holidays. In this case, Sumbawa Regency offers Batu Bulan Dam! As the name suggests, the dam resides in Batu Bulan Village and it belongs to Moyo Hulu Sub-District. In terms of function, it is similar to other dams for sure. One thing that makes it different is related to the nuance. The beautiful landscape and merry atmosphere lure more people to enjoy sightseeing, photography, fishing,…
---