Pelangan Tourism Park in Central Sekotong Sub-District, West Lombok - Indonesia
---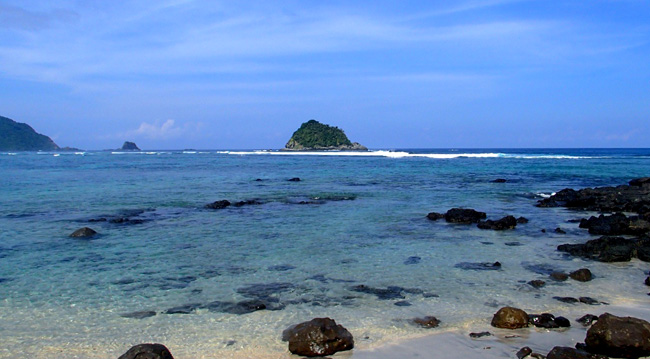 For those looking a reference to conduct a holiday in Indonesia, Lombok Island should be on the list. Not only it features many interesting beaches, but the island offers a great place to conduct numerous types of tourist activities. The name is Pelangan Tourism Park, which is located in Central Sekotong Sub-District. What can people do there, actually? Visitors can explore the site to witness many types of flora and fauna. Well, that is the main activity. The other fun things to do are trekking, camping, sun bathing, etc. Even wind surfing is considered popular in Pelangan Tourism Park!
The Nuance
The fact is that Pelangan Tourism Park consists of different landscapes or areas. Still, two major areas are the beach and forest. The beach has wide white sand and peaceful waves while the forest offers lush nature with numerous types of trees and plants. Not to mention the atmosphere is quite rejuvenating, especially in the morning. What is next? Even though the site features mainly natural attractions, tourists can find good facilities and accommodations including hotels. Thanks to the management. Pelangan has turned into a worthy vacation destination for everyone.
Exploring Pelangan Tourism Park
The site has a serene atmosphere so it is suitable for relaxation. That means visitors can eradicate their stresses at once by exploring Pelangan Tourism Park. In this case, their best choice is definitely the beach (enjoying the Zephyr). For more challenging activities, they can enjoy swimming and surfing! During the good weather, their best bet is definitely sunbathing. Make sure to come in the summer, though. It is because rainy season makes it impossible to do sunbathing.
The next recommended spot to explore is the forest. It features a peaceful nuance and refreshing nature, after all. Apart from relaxation, they can do other fun activities like forest trekking and camping! It is true that some parts of the forest are good to build a tent and spend a night in nature. For those with good stamina, trekking is a better option, though. Not only it is healthy, but forest trekking gives them an opportunity to meet wild animals and plants like Bondol Eagle, Banyan Trees, Gallus, etc.
Here come the tips for those who are visiting Pelangan Tourism Park. In order to avoid discomfort, tourists should wear proper footwear and comfy clothes. If necessary, they should carry snacks or drinks! What about the best time to come to the site? The hottest temperature is usually in April, so it is better to avoid it. For those who love the colder atmosphere, they can come in Augusts when the temperature is the lowest.
Nearby Attractions
Gili Kedis
Bangko-Bangko
Meru Temple
Desert Point
Pearl Beach
How to Get There
From Mataram City Indonesia, a trip to Central Sekotong Sub-District takes about 2 hours as the distance is 63.9 km. Travelers can choose Raya Sekotong Street as the fastest route, actually. Not to mention they have an option to rent a car which is considered more comfortable than going by local transportation service.
Where to Stay
Bola-Bola Paradis Hotel
Secret Island Resort
Nirvana Gili
Coral Palms


Latest News
Of the many tourist destinations in West Lombok Regency, West Nusa Tenggara, Mekarsari Narmada Park offers interesting tour packages. Tourists can try the Tri Sunah activity tour package. The Tri Sunnah are swimming, horse riding and archery. Mekarsari Narmada Park originated from the desire of local residents to take advantage of the existing agricultural potential. The management has built a new swimming pool on resident's land of 2,500 square besto the ide Pecatu village land of 4,500 square meters. The village land was turned into a park equipped with archery…
---
Kenawa Hill in Sumbawa Regency, West Nusa Tenggara Province Sumbawa Regency is part of West Nusa Tenggara Province and it consists of both land and sea natural attractions. The region even features an archipelago where many beautiful gilis or small islands reside. Kenawa Island is one of them and it is known for both the stunning sea and the famous Kenawa Hill. That means tourists should head to the island first if they want to explore and get on the top of the hill. At that spot, they can enjoy…
---
Sumbawa Regency is part of West Nusa Tenggara Province and it consists of both land and sea natural attractions. The region even features an archipelago where many beautiful gilis or small islands reside. Kenawa Island is one of them and it is known for both the stunning sea and the famous Kenawa Hill. That means tourists should head to the island first if they want to explore and get on the top of the hill. At that spot, they can enjoy several tourist activities like sightseeing, photography, camping, and short…
---
Well, some tourists are likely to look for unique vacation spots over time. It is because they want to get a new experience during the holidays. In this case, Sumbawa Regency offers Batu Bulan Dam! As the name suggests, the dam resides in Batu Bulan Village and it belongs to Moyo Hulu Sub-District. In terms of function, it is similar to other dams for sure. One thing that makes it different is related to the nuance. The beautiful landscape and merry atmosphere lure more people to enjoy sightseeing, photography, fishing,…
---