Serenting Beach: The Peaceful and Lovely Beach at Central Lombok
---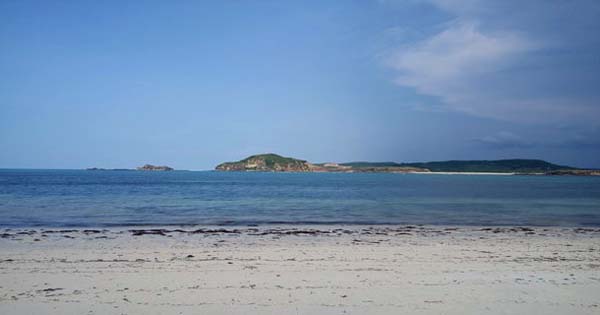 As a lot of people know that Central Lombok has tons of beautiful beach which are famous for the tourists, some of the beach are crowded and some of the others are still very quiet. One of the beach that is ready to be explored is Serenting Beach. Yet not many people are aware about the existence of this beach. Located approximately 51 km from Mataram and just before the more popular Seger Beach, we can reach the beach in 1 or 1,5-hour drive from the city or by crossing the hill nearby. Once we reach the beach, a breath-taking view awaits us in Serenting Beach.
Blue seawater and moderately big waves make Serenting suitable for families or surfers who want to try out their skills. We can walk across the beach, enjoying the soft texture of white sand while take a look at the beautiful view of the sea. Children will love this area since it's not too crowded so they can play in the beach freely. This beach is also a really good spot for those who like to sunbathe as not many people roaming in this beach. We can also enjoy the view of this beach by taking a small hike at a hill from Seger beach to see the beach from the top of the hill.
This beach wasn't this beautiful at first, it was only bushes and dirt before locals started to build some facilities such as toilets and mushalla (small praying room for Muslims). Locals also run facilities like shops, small restaurants, and homestays to accommodate tourists during their visit in this beach. As the matter of fact, this beach has more visitors during weekends, a lot of Indonesian and foreign tourists spend their weekend here, most of them enjoy the sun, play in the beach, or take pictures on top of the hill. Now, Serenting Beach becomes one the favorite spots for the visitors to spend their days off.
Besides the beach and the hill, we can also see Tengkong (Mushroom in Sasak Language). Tengkong is located in the middle of the sea. It is one of the iconic landmark in this beach. There is also an annual local event called Bau Nyale here, a festival of catching sea worms to commemorate local legend of Princess Mandalika. These sea worms are caught by locals as one of the ritual of the event. These worms may look weird, but they are completely edible when cooked in the right way.
Although Serenting often considered as less known than the more popular beaches like Kuta or Tanjung Aan, this beach is worth to visit. Tourists who ride across the road of southern Lombok should stop by and take a look on this beach. Tourists will be surprised on the fact that this beach still maintains its natural characteristics and remains untouchable by strangers.
How to get there:
According to the previous explanation, Serenting Beach is right before Seger Beach which is not far from the famous Kuta Beach. Therefore, the right path you need to follow if you are coming from Lombok International Airport is taking a short walk to the Bundaran BIL (Bandara Internasional Lombok). From there, you will be able to get the public transportation that heads you to Sengkol. Then, you have to find another public transportation which is similar to previous one and it will bring you to Kuta where Kuta Beach is there. It is about 1 to 2 km from there till you get to Serenting Beach.

Latest News
Of the many tourist destinations in West Lombok Regency, West Nusa Tenggara, Mekarsari Narmada Park offers interesting tour packages. Tourists can try the Tri Sunah activity tour package. The Tri Sunnah are swimming, horse riding and archery. Mekarsari Narmada Park originated from the desire of local residents to take advantage of the existing agricultural potential. The management has built a new swimming pool on resident's land of 2,500 square besto the ide Pecatu village land of 4,500 square meters. The village land was turned into a park equipped with archery…
---
Kenawa Hill in Sumbawa Regency, West Nusa Tenggara Province Sumbawa Regency is part of West Nusa Tenggara Province and it consists of both land and sea natural attractions. The region even features an archipelago where many beautiful gilis or small islands reside. Kenawa Island is one of them and it is known for both the stunning sea and the famous Kenawa Hill. That means tourists should head to the island first if they want to explore and get on the top of the hill. At that spot, they can enjoy…
---
Sumbawa Regency is part of West Nusa Tenggara Province and it consists of both land and sea natural attractions. The region even features an archipelago where many beautiful gilis or small islands reside. Kenawa Island is one of them and it is known for both the stunning sea and the famous Kenawa Hill. That means tourists should head to the island first if they want to explore and get on the top of the hill. At that spot, they can enjoy several tourist activities like sightseeing, photography, camping, and short…
---
Well, some tourists are likely to look for unique vacation spots over time. It is because they want to get a new experience during the holidays. In this case, Sumbawa Regency offers Batu Bulan Dam! As the name suggests, the dam resides in Batu Bulan Village and it belongs to Moyo Hulu Sub-District. In terms of function, it is similar to other dams for sure. One thing that makes it different is related to the nuance. The beautiful landscape and merry atmosphere lure more people to enjoy sightseeing, photography, fishing,…
---