The Best Surfing Beach for The Challenged Surfers
---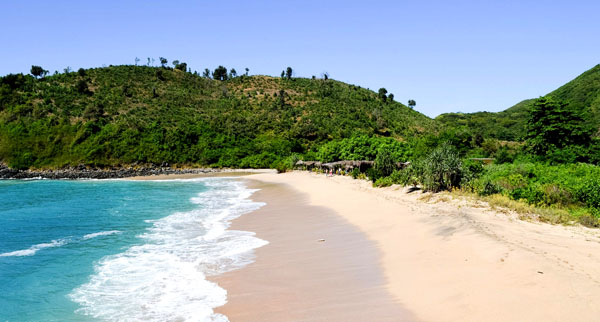 Beautiful and natural landscapes are one of the factor that makes Lombok Island become a worldwide topic. There are always places that yet to be explored and visited such as beach, mountains, waterfalls, and other historical and cultural areas. Some people even say that Lombok is the Island of 1000 beaches. Central Lombok in particular, has one of the largest collection of beaches. Although some beaches already become popular, some beaches are still "undetected" by a lot of travelers. Some of them are definitely beautiful and has its own characteristics. One of the "undetected" beach is Mawi Beach, the name is similar with Maui Beach in Hawaii. This beach becomes more popular each day as one destination for whoever that come to visit Lombok, especially for surfers because Mawi Beach has stronger waves. Mawi Beach is located in Mekar Sari village in Central Lombok, around 70km from Mataram, the capital city of Lombok. Mawi Beach is hiding between Silong Blanak Beach and Mawun Beach in Central Lombok. There is no road sign that leads to Mawi, because it is located behind some hills. The location also quite far from the main road, so it is recommended to ask local people for the directions. The main road between Silong Blanak Beach and Mawin Beach is very well built, however the path leading to Mawi is still natural. It takes 20 minutes to reach Mawi, the secret beach.
Although the road is quite long, it is a great challenge for travelers. Different texture of road and rice fields will make our trip unforgettable. Once we arrived at Mawi Beach, a breathtaking view of the beach welcomes us. It seems like a hidden treasure, very beautiful and raw. There is no building here, except some traditional huts that we can use to sit down and rest. Mawi Beach also has a wide sheet of white sand across its coast. This beach that lays behind green hills and quite distant from the public road gives us a very close and intimate sensation. Facing directly to Indian Ocean, we can see the beautiful blue sea that goes until our horizon. Small hills surrounding this beach also look very beautiful.
The main attraction of this beach is the wave, as it is stronger than the nearby beaches and makes it perfect for surfers. Mawi Beach is suitable for those who like to surf from both local surfers and international surfers. This beach has a regional classic type of wave with a regular and frequent tide. The type of the wave is reef coral, it goes to the left and to the right, thus makes this wave a good spot for surfers. Surfers should come here between May and October, because during this period of time sea wind comes from the east with bigger waves that is perfect for surfing. Also, it is required to stay aware and follow the rules of the place, such as the dangerous lower stream and there are some sightings of sharks.
How to get there:
Located at Mekar Sari village, Central Lombok, Mawi Beach is 16 km from Lombok International Airport. Unfortunately, there is no public transportation the tourist can rely on to take them to this Mawi Beach. Therefore, for those who want to visit this beach, you can rent either car or motorbike or you can go to some travel agents in Lombok to safely bring you to this heavenly beach for the surfers. Yet if you decide to rent a car from Lombok International Airport, you can find an intersection of Masjid Jami' Penunjak. From there, turn to south till you reach the area near Pantai Selong Belanak. After that, you will arrive to a T-junction of Villa Sempiak and do turn to the left path for following the road till you find another T-junction. Then, take the right direction till you find the third T-junction. Go right and follow the road to the hill. You can see the Mawi Beach from there already.

Latest News
Of the many tourist destinations in West Lombok Regency, West Nusa Tenggara, Mekarsari Narmada Park offers interesting tour packages. Tourists can try the Tri Sunah activity tour package. The Tri Sunnah are swimming, horse riding and archery. Mekarsari Narmada Park originated from the desire of local residents to take advantage of the existing agricultural potential. The management has built a new swimming pool on resident's land of 2,500 square besto the ide Pecatu village land of 4,500 square meters. The village land was turned into a park equipped with archery…
---
Kenawa Hill in Sumbawa Regency, West Nusa Tenggara Province Sumbawa Regency is part of West Nusa Tenggara Province and it consists of both land and sea natural attractions. The region even features an archipelago where many beautiful gilis or small islands reside. Kenawa Island is one of them and it is known for both the stunning sea and the famous Kenawa Hill. That means tourists should head to the island first if they want to explore and get on the top of the hill. At that spot, they can enjoy…
---
Sumbawa Regency is part of West Nusa Tenggara Province and it consists of both land and sea natural attractions. The region even features an archipelago where many beautiful gilis or small islands reside. Kenawa Island is one of them and it is known for both the stunning sea and the famous Kenawa Hill. That means tourists should head to the island first if they want to explore and get on the top of the hill. At that spot, they can enjoy several tourist activities like sightseeing, photography, camping, and short…
---
Well, some tourists are likely to look for unique vacation spots over time. It is because they want to get a new experience during the holidays. In this case, Sumbawa Regency offers Batu Bulan Dam! As the name suggests, the dam resides in Batu Bulan Village and it belongs to Moyo Hulu Sub-District. In terms of function, it is similar to other dams for sure. One thing that makes it different is related to the nuance. The beautiful landscape and merry atmosphere lure more people to enjoy sightseeing, photography, fishing,…
---