The Peaceful Gili Maringkik along with Its Beautiful Landscape
---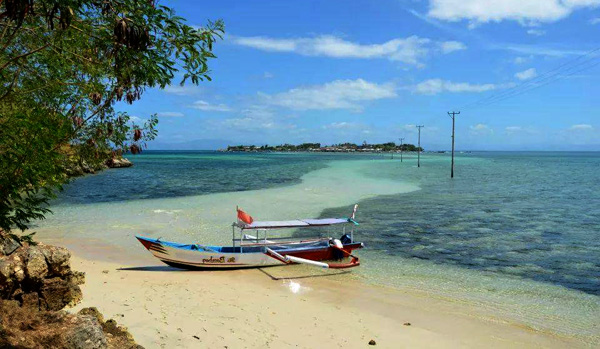 As the time goes, Lombok is considered as one of the island with a complete collection of natural landscapes. Indeed, it has a wide selection of beautiful places, from mountains, waterfalls, beaches, islands and places with high cultural values. There a lot of smaller islands around Lombok and people call it as gili. One of the very potential gilis that is worth to be visited is Gili Maringkik.
Gili Maringkik is a village on the island that possess various characteristics and specialties, its existence is slowly recognized by both Indonesian travelers and worldwide travelers. More and more people come to this gili, not only those who come with the travel package through Gili Pasir, Gili Petelu, Gili Kere, and Gili Bembeq, but also some people who really want to visit Gili Maringkik by themselves.
Most inhabitants of this gili are fishermen who are busy with their activities every day, they battle with the strong stream of the sea to find different kind of fish. There are high numbers of fishermen in Gili Maringkik, as an effect Gili Maringkik is dubbed as a definitive village. As the local lives as fisherman, you do not need to worry about the transportation that bring you across to this gili.
Gili Maringkik has a distinct pinkish beach sand, very unique compared to the other islands with white sand. People can swim, enjoy the sun, and snorkel around the gili, or even go with the fishermen to get the actual experience of fishing. Then, you can taste the delicious grilled fish as the result of your catch. One of some aspects that can attract people to explore the beach at Gili Maringkik is its superficiality. Thus, it is safe for those who eager to either swim and snorkel in witnessing the beautiful underwater population. The blue seawater will help you to unwind and get more energy from the nature.
Along the beach, we can see traditional houses, establishment for education and prayer houses. Although Gili Maringkik is a small island, sea traffic happens every day, it boosts the activities of the people and makes the atmosphere of Gili Maringkik very lively and full of spirit. Visitors will go along with the villagers easily, it gives a vibe that visitors are staying in their own home.
How to get there:
In order to get to Gili Maringkik, East Lombok, if you are starting your trip from Selong, you have to go through Labuhan Haji to Rambang and continue to Tanjung Luar. It takes approximately half and an hour from Selong to Tanjung Luar. From Tanjung Luar you need 30 minutes long to get across to Gili Maringkik by boat. That would be a great trip when you are there during the sunny day. The tranquil of the wave and the wide blue sky will accompany you till you arrive at Gili Maringkik. Moreover, the beautiful small islands around this Gili Maringkik along with the posts of fisherman will add the beauty of your journey. Near Gili Maringkik, the depth of the water is getting shallow. The natural beauty and the friendly local people will gladly welcome you right you step there.

Latest News
Of the many tourist destinations in West Lombok Regency, West Nusa Tenggara, Mekarsari Narmada Park offers interesting tour packages. Tourists can try the Tri Sunah activity tour package. The Tri Sunnah are swimming, horse riding and archery. Mekarsari Narmada Park originated from the desire of local residents to take advantage of the existing agricultural potential. The management has built a new swimming pool on resident's land of 2,500 square besto the ide Pecatu village land of 4,500 square meters. The village land was turned into a park equipped with archery…
---
Kenawa Hill in Sumbawa Regency, West Nusa Tenggara Province Sumbawa Regency is part of West Nusa Tenggara Province and it consists of both land and sea natural attractions. The region even features an archipelago where many beautiful gilis or small islands reside. Kenawa Island is one of them and it is known for both the stunning sea and the famous Kenawa Hill. That means tourists should head to the island first if they want to explore and get on the top of the hill. At that spot, they can enjoy…
---
Sumbawa Regency is part of West Nusa Tenggara Province and it consists of both land and sea natural attractions. The region even features an archipelago where many beautiful gilis or small islands reside. Kenawa Island is one of them and it is known for both the stunning sea and the famous Kenawa Hill. That means tourists should head to the island first if they want to explore and get on the top of the hill. At that spot, they can enjoy several tourist activities like sightseeing, photography, camping, and short…
---
Well, some tourists are likely to look for unique vacation spots over time. It is because they want to get a new experience during the holidays. In this case, Sumbawa Regency offers Batu Bulan Dam! As the name suggests, the dam resides in Batu Bulan Village and it belongs to Moyo Hulu Sub-District. In terms of function, it is similar to other dams for sure. One thing that makes it different is related to the nuance. The beautiful landscape and merry atmosphere lure more people to enjoy sightseeing, photography, fishing,…
---